A 6632 m2 major critical services upgrade of Raigmore Hospital in Inverness, for NHS Highland, being undertaken under the NHS Health Facilities Scotland Framework Commission (HFS2) has chosen Cableflow's SOLO product range to supplement its patient care services delivery across a variety of clinical locations.
The project will co-locate the existing critical care services within the ground and first floors of a 1980's tower block and modernise the adjacent Theatres for compliance with current guidelines.
10 new operating theatres as well as new Intensive Care, Medical and Surgical High Dependency Units and a new Day Surgery Unit will be provided. The project is valued at £19m and will incorporate more than 150 medical supply units manufactured in the UK by Cableflow.
SOLO provides a cost effective yet aesthetically complimentary product for all patient care services at the bedhead, and from within a range of configuration options where outlet positioning and access are key to improved clinical functionality across the varying care disciplines.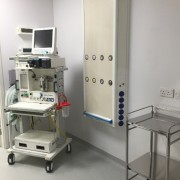 The incorporation of low level extract for anaesthetic waste gases and ventilation in accordance with (S)HTM 02-01 is a core element of the SOLO5 product used across the higher dependency areas. The integration of ancillary patient monitor screen supports, bedhead buffers, over bed lights and medical equipment rail results in a neat yet simply co-ordination approach to bedhead services, all fabricated off-site as a composite assembly for a simplistic site install.
The project will also utilise the Cableflow WAVE healthcare light where clinical need arises for general room and patient observation illumination.
In other high dependency areas where the architectural constraints of a pre-existing 1980's building don't lend themselves to current guidelines that facilitate up to date services provision, Cableflow's highly acclaimed FS Medicol will be installed instead of ceiling pendants to provide a full range of bedhead services on either side of the patient. Designed with a full range of adjustable and rotating attachments that reduce the footprint often required by ceiling mounted articulated arm pendants, thus freeing up usable floor area for better patient access by clinicians, the FS Medicol neatly provides all patient care eservices