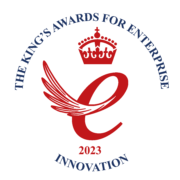 We are delighted to have been Honoured with the first ever Kings Award for Enterprise for Innovation, the highest accolade for business success which signifies Royal recognition of outstanding UK companies.
As the UK's largest manufacturer of Medical Supply Units which are used across the NHS and the private healthcare sector, this prestigious Award which is an internationally recognised Royal approval celebrates outstanding achievement and excellence by UK businesses.
His Majesty The King personally approved the Prime Minister's recommendation that Cableflow should receive a King's Award for Enterprise. There are just 47 awards made in the innovation category for 2023 across all of British business making this achievement significant.
This Kings Award for Enterprise recognises Cableflow's equipotential earth bonding connection point as a proven innovation. The product provides a dedicated and unique point for the connection of various items of Medical Electrical (ME) equipment used within the patient environment and contributes towards preventing ventricular fibrillation (VF). The product equalises the earth potentials of various Medical Electrical (ME) equipment to limit risk to the patient, specifically for example, when undergoing an intracardiac procedure where parts of ME equipment come into contact with the patient.
Offered as a stand-alone product in its own right for use across the UK's Healthcare estate or, as a component to be incorporated into other medical equipment manufacturers products the Cableflow equipotential earth bonding connection point (or potential equalisation socket) is relevant not just in the UK but in all global markets. It's usage is now promoted through harmonised international wiring regulations for healthcare facilities.
Cableflow were previously a recipient of a Queens Award for Enterprise in 2005, also in the Innovation category. To receive a second such Award is rare and once more places Cableflow amongst the Countries most elite businesses, recognising groundbreaking innovation at the core of it's activities which have delivered outstanding and sustained commercial success across the MedTech sector.
The last few years have been a challenging time for businesses and this achievement is testament to the resilience, ingenuity and innovative approach to business that the entire Cableflow team have shown throughout these unprecedented times. The Awards recognise the strong leadership and corporate vision required in well-operated and resilient businesses that have demonstrated commercial successes resulting in both financial and employment growth.
About the Kings Awards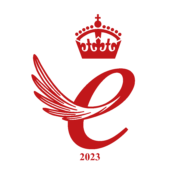 The King's Awards for Enterprise is the most prestigious award for UK businesses. The Award is considered by many across industry as a corporate Knighthood and an internationally recognised royal seal of approval for UK companies. The Kings Awards for Enterprise recognises outstanding businesses across the UK and exemplifies them as well run, innovative organisations who have demonstrated outstanding commercial success in their respective field, whilst contributing to the wider UK economy and Britain's international reputation.
The awards are made each year by His Majesty The King, on the advice of the Prime Minister assisted by an Advisory Committee that includes representatives of Government, industry and commerce, and the trade unions. Awardees enjoy a range of benefits, including worldwide recognition and extensive press coverage.
Established during Her Majesty Queen Elizabeth II's reign and conferred in Her Late Majesty's name, The Queen's Award for Enterprise has been renamed following the Accession of King Charles III. The Award has become The King's Award for Enterprise.
Throughout Her Late Majesty's 70-year reign, Queen Elizabeth II was committed to recognising outstanding work and acts of service by individuals and groups. By attaching His Majesty's name to this award, The King has emphasised his desire to continue Queen Elizabeth's legacy of recognising outstanding businesses across the United Kingdom. The Awards were established in 1965 by a Royal Warrant with the first Awards being made in 1966.
The awards celebrate the success of exciting and innovative businesses which are leading the way with pioneering products or services, delivering impressive social mobility programmes, or showing their commitment to excellent sustainable development practices.
The Kings Awards for Enterprise 2023 total 149 awards split across the four categories as follows:
78 awards for International Trade
47 awards for Innovation
15 awards for Sustainable Development
9 awards for Promoting Opportunity (through social mobility)